Visiting the dead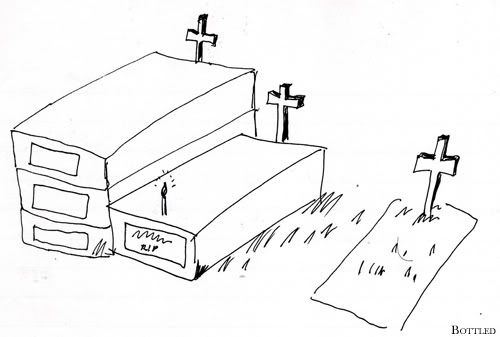 Here's my first entry for the NaBloPoMo. For each post, I'll be posting my sketches, scanned using HP 1315. I was highly inspired by Austin Kleon.
Around this time, the family would be off to
Banga
, some 15-minute drive away from Koronadal, to visit my mother's side of the family—my grandmother, a number of my aunts and uncles, and my noisy cousins.
November 1 has always been a mini-reunion. It's not an elaborately organized party, as some families are prone to doing, but it usually comes in the form of a simple lunch, coupled with hours of talking and laughing at Lola's backyard.
Auntie Cecille would slaughter native chicken from her collection of poultry animals. Uncle Dotdot would order and arrange flowers for Lolo Mauro's grave site, while my mother would whine at why Lola decided to cut this or that tree down. "You need the shade; it's too hot these days."
Later in the afternoon, when there's not too many people, Auntie Netnet would accompany us to the cemetery to visit Lolo's grave, freshly painted, bursting with colors and candles. Along the way, we'd meet family friends, distant relatives (although in the province, there are no distant relatives), even former classmates.
Exhausted after all the walking, we'd be treated to food, games, and a lot of other fun things—like making our younger cousins cry.
I wish I were home.