Tatay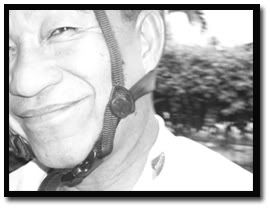 This post comes very late: Father's Day was last Sunday, two days ago. And it's weird, when I think of it, because my father is never late.
Everyday he wakes up early, hours before we do, to read his books and meditate on Scripture. Then my mother awakens and they have coffee in the garden, all by themselves, though they should've known by now that we've been listening to their secrets in our state of half-asleep-half-awake.
During PTA meetings in school, he'd always be on time. For 30 minutes, he'd wait for other parents to arrive before the meeting would commence. When he accompanies me to the airport, he'd tell me to check in two hours before departure and would settle for no less. During meetings at church, he'd always leave the house on time so there are no delays. And this one I will never forget: he hates being late for the Sunday worship service.
But, as I always jokingly tell him, "It's better late than never, Tatay." And I could picture him with that smile, so heartwarming it could melt the icebergs in Antarctica; and then I'd pinch his nose, perhaps his most distinct legacy to all his children who have, in a way, inherited the same wide, large, and conspicuous olfactory organ.