Voice
"Come on. Move!" His cry of desperation is drowned by the noise of cars around him. After 24 hours of non-stop back-breaking corporate work, being stuck in traffic is the last thing he wants. "
Ano ba naman 'to? Gusto ko nang umuwi
." He turns the music on. There's not much to listen to. He turns it off, closes his eyes, and imagines he's somewhere in the Pacific, lying on a hammock, sipping fresh, cold coconut juice.
The cars begin moving a little faster now. He clutches the steering wheel. "
Makakauwi na rin sa wakas
." Minutes later, he finds himself in front yard and hears his German shepherd's growling. The house is dark. Nobody's around.
He grabs his key, opens the front door, and turns the lights and TV on. He throws his shoes and his coat in a corner. He stares at the TV screen, his mouth wide open, his eyes teary. His world stops. He's looking at her now. He feels like she's singing to him. Her voice pierces his soul, her smile melts his weariness away. The song ends.
It takes him sometime to break away from the trance. He laughs aloud, and says, "
Melinda Doolittle
, you just don't know it yet, but I'm your Funny Valentine."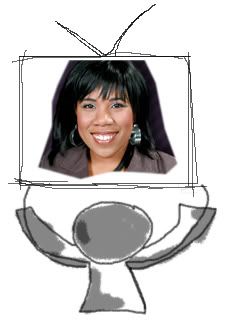 TAGGED AS:
melinda doolittle