The baby is now a white lady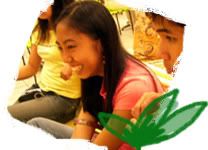 But, seriously, happy birthday, Shean. We've known each other since Grade 2: we practically saw each other grow. You were a wretched cry baby then. My mere mention of "
Uy, si
Shean and Bonifar!" would make you howl in tears. And yes, I remember how you had those nice, long pigtails, with colorful clips and headbands, among other hair ornaments that you wore. Hay, those were the days.
I'm really grateful that you've come to know the Lord deeper. May you grow more in love with Him. May the message of the Gospel be sweeter to you each day. May your faith all the more increase, and may your light shine forth in the dark corners of this sinful world.