Dream wedding
This is too funny to set aside. Ate Meann Africano, a dear friend from church, messaged me about her dream (of which I was the star, apparently)—a dream that has amused her to no end.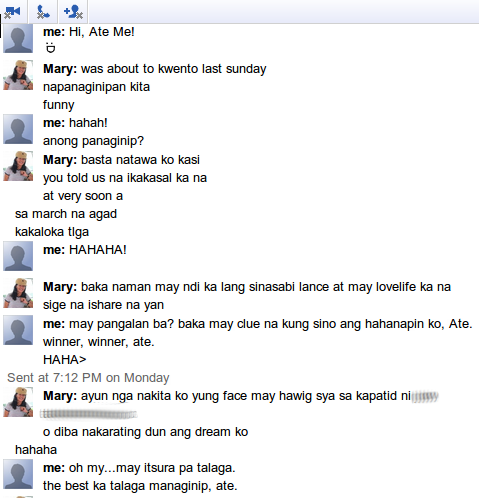 I guess that means March will change my life forever. Uhm, how many guests should I invite? And what
font
do I use for the wedding invites?
This conversation came about just as I had finished browsing through
Pam Pastor's Inquirer article
, in which she wrote:
"Stop asking when I'm getting married. It's annoying, it's intrusive and it may get you physically injured. So don't. For the love of God and all things white and shiny, stop asking. Stop asking if I'm getting married, stop asking when I'm getting married. Because even if I were, you wouldn't be invited."
I'll keep that in mind when talking to friends already in their 30's.
(Thanks for the link, Ate Liw Agbayani.)