Old Manila
The entire afternoon is free, and I have nothing else to do—except to wallow in solitude inside my room if I choose to. There are times when it's healthy to be alone; this isn't one of them. And so I spend a couple of minutes at the Stones where my transbox is—a glorified locker, but only an eighth of the size—hoping to see people and start conversations with them.
My friend Marvyn comes right up to me, "Do you want to go to Divisoria with us?"
"What are you and Jonas up to now?" I ask.
"We're starting a business: uniforms. We're buying the fabric today. Do you want to come?" I'm personally not a fan of crowded places, but Marvyn's smile, combined with Jonas' innocent insistence, is disarming.
I immediately say yes until I realize I'm carrying a laptop. Divisoria is a place teeming with thieves and robbers. I remember meeting a friend's aunt whose earrings got snatched when she went there. And there are countless stories of slashed bags, lost wallets, and stolen phones.
"We'll leave it at my Dad's store. Someone will look after it, so don't worry," he says.
The jeepney ride takes about 20 minutes, and suddenly we find ourselves there: ah, the glory of Old Manila. The streets are busy. Vendors populate the sidewalks. Half-naked men carry boxes like ants. And shop owners deal noisily with buyers who've come there for the discounts.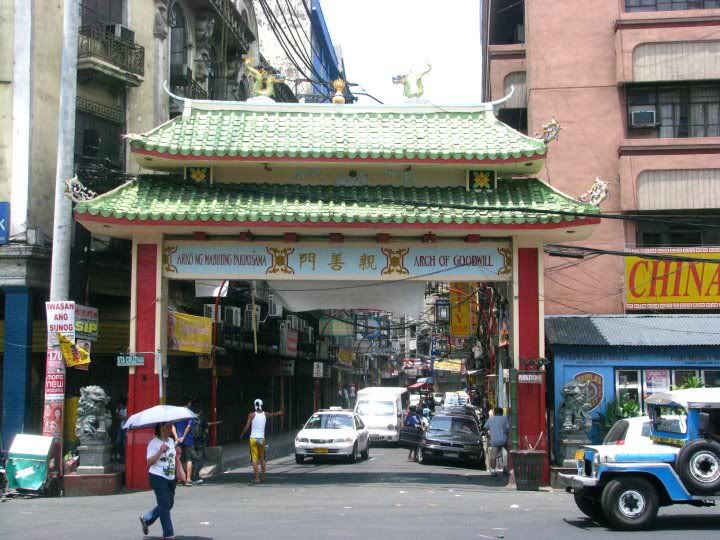 Marvyn takes the lead in finding the textile shop his father recommended, while Jonas and I trail along. We feel like cars trapped in Manila's congested roads. We don't know where we're going because the directions people give us are contradicting, as if the place has no sense of permanence.
"Ask the policemen," I tell Marvyn.
We're told the old Manila textile shop has been burned down to pave way for the construction of a Puregold grocery store. "But some shops are still there, in the building that still stands," the man adds.
After what seems like an eternal walk, we find it: a decrepit building with black cobwebs in the ceiling. It feels like we've been sucked into an old photograph. Marvyn talks to the owner in broken Chinese. I don't understand a thing, except for the occasional mention of fabric names, but I'm sure they're reaching some form of agreement. We leave the place with a sense of accomplishment.
The two guys are excited: their business is rolling. But the sun is setting, and we're all bogged down.
"Let's eat," Jonas says.
"Do you want noodles or dimsum?" Marvyn asks.
"Can we have both?" I say.
Marvyn knows just where to go: a restaurant in Binondo where they make noodles from scratch. I order noodles with pork innards as toppings, and we all agree to share the dimsum. The food is mouth-watering.
"It'll take me a week to finish digesting everything I just stuffed in," I say.
It's already dark when we leave the diner. We take a long walk to Avenida to catch the train that should bring us to our respective destinations.
As I alight the LRT, I remember the overwhelming number of lessons I have to study. But it comforts me to know that the world outside goes on as it should, and that my laptop is neatly tucked inside my bag, intact.