"Di kasing laki ng hirap kong ito / Ang ginhawang maiaalay sa 'yo."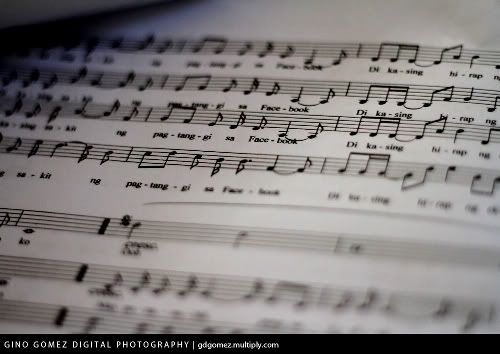 The song is about making little, everyday choices. It sounds a lot like a friend talking to someone: casually at first, before the conversation climaxes to words of excitement and deep conviction, ending in a hopeful, optimistic note.
That's how
Isang Lagda
goes. Written by Ryan Magtibay, it vividly captures our hearts' longing to eventually serve the country as doctors. The theme is timely, as our batch is the first in history to sign the Return Service Agreement (RSA) which binds us to serve in the Philippines for at least three years right after we graduate.
Anne Barraquio, with major inputs from conductor Jana Mier and the TRP Song Committee, arranged the song, resulting to a dynamic and enjoyable melody—even hair-raising in certain parts.
The piece is our class' official entry to the upcoming Tao Rin Pala (TRP) song competition, a much anticipated event in the UP College of Medicine. This has been running since the time when my classmates' parents were still med students themselves.
This afternoon, it gave me the chills to listen to the entire class sing the song together in all four voices, and the experience was like hearing the notes in the midi file take the shape of audible, human voices. That version was far from perfect, of course, and clearly there's still a long way to go. Making
158
159 people sing together harmoniously is no easy feat.
But I'm excited to see what happens next. It's been a long time since first year med students won the title, but, who knows? We might have it in the bag this time.