The week in photos: last week of June 2007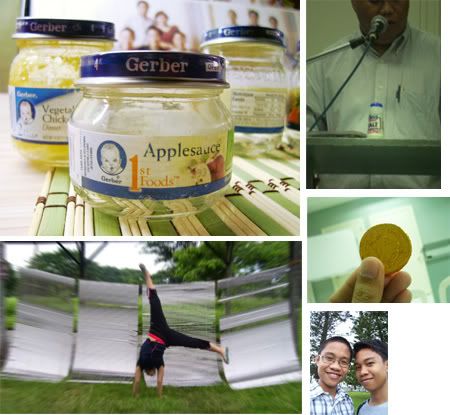 I ate Gerber because the bottles were needed for an experiment. Weirdly, I actually liked the taste. Maybe I'm still just a baby in the body of a twenty year-old.

While waiting for lunch after the MBBS Tambayan clean-up, Arielle showed us her moves. I could do just the same. In dreams.

Pastor Oscar talked on Christians being the salt and light of the earth during the special youth fellowship. In the middle of his peaching, he grabbed a bottle of salt from his pocket to illustrate his point.

We were given gold coins with chocolate inside them as prize for reciting memory verses (during the same youth fellowship). Sadly, I mistook Romans 3:23 for Romans 8:28. I should get that right next time.

Sean celebrated his seventeenth birthday. He's getting old, and I'm getting older. All in all, I praise the Lord for a most wonderful week.