Jeepney rides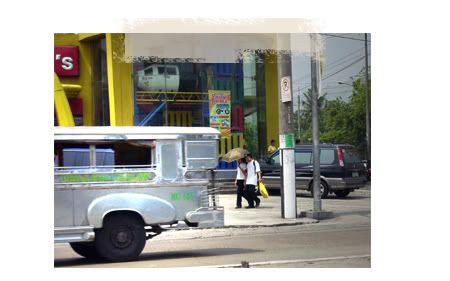 Before the last passenger boarded the jeep, the driver had already turned on the engine, something that made our cramped, humid bodies vibrate. It had just rained: the road outside was wet with dew, the afternoon sky was bleak, save for the remaining orange sprays of the setting sun.
"Bayad." A twenty-something, dressed in tucked in polo and black slacks, motioned me to get his seven-peso worth of fare, to hand it to the driver who was seated on the right end.
I, too, grabbed my purse, a handmade black-and-white piece of fabric a friend brought from Sagada, to get my coins which amounted only to 6.50. I was short of 50 cents. That moment remembered my father who used to tell me a million will never amount to a million if a peso is missing. There was nothing else--I looked in my pockets, my bags, even the pages of my book--but all I had was a 500 peso bill my brother had lent me earlier.
I took the chance of being reprimanded by the driver. Shame on me. I passed the bill with quivering hands. When it finally reached him, he shouted, "Kanino 'tong limandaan?!" He returned it back, with added expletives, a sign that he was furious for he had no change for such big an amount.
In my seat, I closed my eyes and prayed. "Lord I don't know what to do. But I know You have something good planned for this."
When I opened my eyes, I saw a lady beaming at me and looking at me straight in the eyes. She probably saw me with the coins. She asked, "
Magkano ang kulang
?" ("How much do you lack?")
"Fifty cents," I said.
She gave me a five peso coin; I felt like I had just won a million. With a heartfelt smile, I said, "Thank you so much." Good people still walk on this earth.
When the jeep passed by my dorm, I motioned the driver to stop. It was already dark; night had come. I jumped out, my heart thankful to my Lord who has never once failed to provide for my needs.