Summers of childhood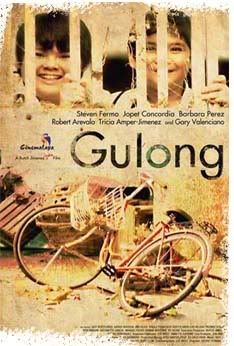 An hour and a half of watching Gulong reminded me of the summers of my childhood: afternoons spent playing under the sun, hanging out in the quiet neighborhood, and going where our feet led us. Life, like everything else, was enjoyed in simplicity.
Gulong
, directed by Sockie Fernandez, is a finalist in the Cinemalaya Film Festival (Full Length Films Category) now showing at the UP Film Institute.
The story is told by Apao, a kindhearted boy who wants to buy an old bicycle. With his cousin Momoy and friend Tom-tom, they work for weeks to purchase the bike--all these for the price of going to a fishpond where beautiful women are found bathing.
But they learn that life isn't so easy after several instances that hinder them from finally buying it. And each time, Apao's kindness would prevail, like a waft of cold mist in the sweltering heat.
The movie isn't pretentious.; it tells the story as it ought to be told. It's also distinctly Filipino, definitely one of the movies that will destroy age-old notions that films made in this country are only about teenage lovers with Korean blood and American accents. It's engaging, funny, heartwarming, and romantic in its unique way.

I watched the film with Es, arguably my favorite movie buddy because she howls at sad scenes and rocks the moviehouse with her infectious laughter. On our way out, we spotted Momoy, a robust, polite child, and had our pictures taken with him. Good work, kid.