In the middle of hardcourt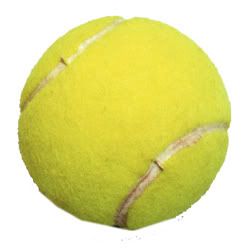 At eight in the morning, the sun is already stifling. And there I am, being boiled--literally. Beads of sweat are trickling on my face and arms that I have to wipe them with my muddied shirt every so often.
I am a player in the hardcourt.
The Trainer motions me to come near. "Hit from the baseline. I want to see the form. Look at the ball. Don't hit too hard. Just stroke it." I hear the words like a faint whisper. In my mind, I silently repeat them as I grip the racket tightly as if my life depended on it.
I squint at the approaching yellow ball. I twist my body, bend my knees a bit, with my right foot slightly forward, to hit the ball with a proper forehand. Tok. The ball hits my racket and moves on to the other side--a little off target, but it's considered in. I think I did well. For now, at least.
I see a smile on the Trainer's face. Is it of approval? I'm really not so sure, until he says, "Good."
For a while there, I forget the throbbing pain in my right wrist and the aching in my arms and the fact that I look like toasted bread after hours of sunlight exposure. Tennis has never been this fun.