Forty years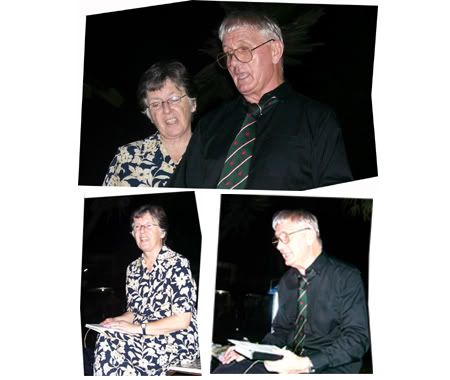 Forty years.
How could two people not get sick of each other's presence after living in one roof together for that long? Doesn't familiarity breed contempt? Marriage has always baffled me.
Forty years, when I think of it, is about twice the length of time I've lived on earth. But Kuya Dave and Ate June have been married for that time span, and they still look like they've just been to a honeymoon in the Bahamas.
For starters, Kuya Dave is Welsh; his accent is a hybrid between those of Sean Connery and Aragorn, Son of Arathorn. He's a tall, white-haired guy who can start a meaningful conversation with anybody. If you've talked to him, he should have told you that he used to be neighbors with Catherine Zeta-Jones, that lovely actress, in Wales, and even went to th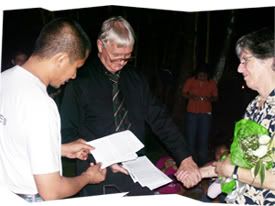 e same school as she did.
Ate June is English and is the closest person I could find who fits the Proverbs 31 description of a wife. Her accent never fails to melt my heart; she reminds me of characters in movies like Pride and Prejudice and, well, Harry Potter, for lack of a better example. She speaks gently--very motherly in a way-- and her voice is so soothing you can listen to it for weeks non-stop. Her English trifle, a dessert of custard and something that tastes like cherry, is one of my favorite food in the world.
They're missionaries who were once based in Japan and were married there. Now, Kuya Dave is our resident pastor, elder, and--as we lovingly call him--our infallible guide in Yakal Christian Fellowship (YCF). Ate June ministers to a Japanese church in Metro Manila.
Their wedding was forty years ago. It was simple, they say: Ate June even had to ask her friend from the UK to send her a wedding dress because she couldn't afford to buy one.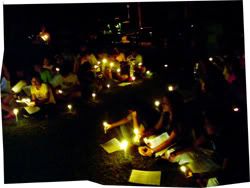 Tonight, in celebration of their 40th wedding anniversary, they reenacted what happened in Japan years ago. The event was held at the Yakal front lawn. Everything was improvised: Luther stood as Ate June's father; Sir Felipe Jocano, my anthropology professor and DCF adviser, was the officiating minister; and Razel, the wedding singer.
Because the event was evangelistic, Kuya Dave and Ate June related marriage to the Gospel. I pray the message has been planted in the hearts of people who have yet to know Christ as their personal Lord and Savior.
I thank the Lord for the privilege of knowing Kuya Dave and Ate June. Their cross-centered lives have been instrumental in reminding me to live for God's glory.
And now, as I think about what has just happened tonight, I'm beginning to understand, albeit gradually, how two people who love God and each other can never get sick of one another's presence.
Even for as long as forty years.