Hot momma
"Joe, what if you suddenly feel like peeing while delivering the baby?" I ask.
My friend smirks at me, amused. "I don't know. What's important is that I let the baby out."
"They say having kids softens even the hardest hearts," I say.
"I guess so. I don't feel that excited now. But I'm curious as to how he'll look like."
"What will you name him?"
"Aleph Yakov, but my family wants Stephen Andre instead," she says, her face replete with confusion. Names matter, after all. Give your child a name like
Maria Pigsa
and people will laugh at her face.

A frightened yet indignant scream jolts the hospital ward. The feeling is terrible. She feels as if she's going to be ripped apart, inside and out. "He's about to come out," she whispers to herself in between bouts of recurring pain.
She looks at the large, bulging area in her stomach and gradually strokes it. "Relax, Baby. Everything will go on fine," she says, as if it's helping to ease the torture.

Was the delivery normal, or did they do a C-section? Did the baby cry out, "Hello world!" the moment it got out of Joe's womb?
There's no news yet, but we're hoping for the best.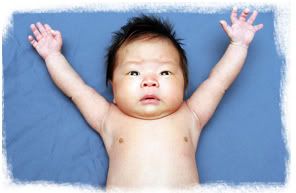 "Having this baby... you've matured overnight, haven't you?" I ask her.
Teary eyed, she smiles at me. I could tell she has grown up.

UPDATE
!
It's a baby boy. "Cute," Joe tells me. "Everytime I hear him, it makes me cry." And the name's Joseph.