Boyhood
François Truffaut's 1959 film,
Les Quatre Cents Coups (The 400 Blows)
, tells the story of a boy.
The scene opens with the teacher writing on the board and the boys passing around a picture of a half-naked woman in lingerie. Antoine Doinel (Jean-Pierre Léaud), our hero, is caught, and he comes right up to the teacher's desk. He doesn't look scared. He goes to a corner—the French has a face-the-wall version, too—and patiently waits for recess. When the bell rings, however, the rest of his classmates hurry up to play outside—recess has always been for playing, not eating—and he attempts to join the rest of the crowd, until the scary teacher they call Sourpuss (Guy Decomble) calls him back, "Recess isn't mandatory; it's a reward."
Doinel always gets the teacher's brunt. In too many occasions he is reprimanded and shamed in front of everyone. He remains unperturbed. To explain his absence from class, he tells his teacher that his mother has died. The teacher finds out when his parents come to visit him in school. He gets a verbal whipping.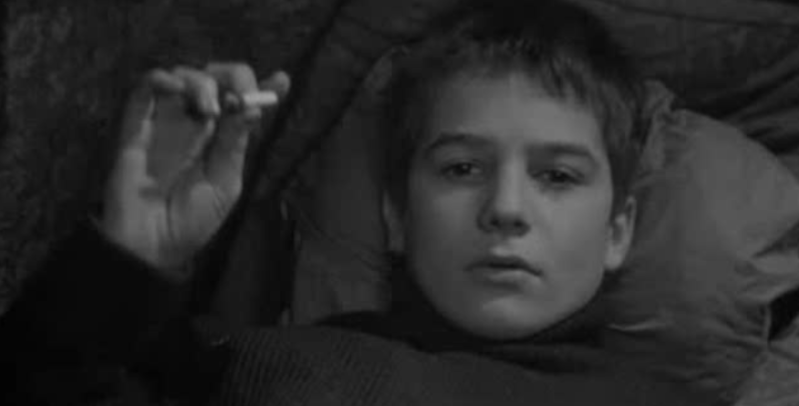 Unlike me, Doinel never enjoys class—and probably never will. With his ally, his friend, his partner-in-crime, René Bigey (Patrick Auffay), he cuts his classes to go to the circus, or elsewhere for that matter. A scene shows him whirling around what looks like a huge centrifuge that propels people to the sides, against gravity, when it twirls. From the circus, they walk aimlessly on the street, then Doinel spots his mother kissing another man, someone from her workplace. The boy sports a confused expression.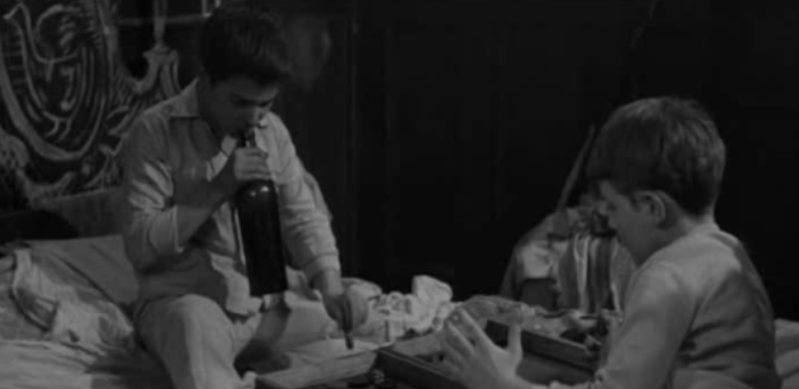 Antoine lives with his mother and stepfather. His mother seems to hate him—she had him earlier, with a different man. His stepdad is cool to him, not a father-figure exactly, but at least someone who takes care of him when his mother isn't around. And they live in a cramped space small enough such that Antoine can hear his parents fight.
His mother, already frustrated, tries a different approach. She goes to encourage him to do well in school, bribing him with 1000 francs if he gets into the top five.
One time the teacher gives the class an assignment. "Describe a serious event which you witnessed and involved you personally." Doinel is excited. He gets his inspiration from the work of
Balzac
, a French novelist and playwright, to explain his grandfather's death. When he turns the assignment in—I think he honestly wrote his piece—his teacher accuses him of plagiarism. He is suspended from school.
René decides to get suspended as well, and so the two explore Paris, hiding in places, enjoying themselves. To earn money, they steal a typewriter. They eventually get caught, and Doinel is sent to a juvenile prison. His parents are hopeful that the penitentiary will reform him.
Doinel is sent to a camp of sorts in an island—sort of like Shutter Island. The training is rigorous, the meals timed, their every action watched. While the rest of the kids are playing football, Doinel manages to escape. Of course his escape is temporary, but he runs hard and fast away from the buildings, until he reaches the seashore. He pauses as he marvels the sea, the beginning of freedom, the fufillment of his dreams.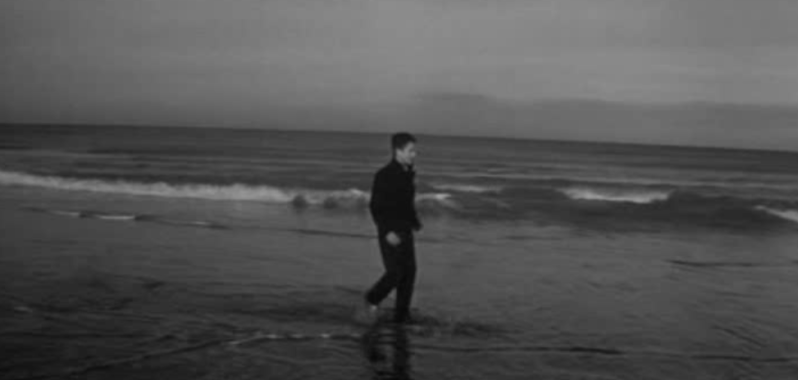 François Truffaut captured the essence of boyhood in this film. In a sense, The 400 Blows reminded me so much of my childhood. Before
Notre Dame
admitted girls in 1997, I remembered that my playmates were all boys, and I didn't have to deal with so many crybabies who wore funny ponytails and headbands. As in the movie, we had the same strict teachers, we played the same games during recess, but we didn't have the concept of cutting classes. Childhood was fun, and life was a breeze.
In a time of cultural transition, Truffaut's work showed exactly that—there is a struggle to be free, that freedom is a perspective. It's not a wonder then why this movie is considered one of the defining films of the French New Wave, and Truffaut, one of France's best directors.