UP Singing Ambassadors: Tulad ng Dati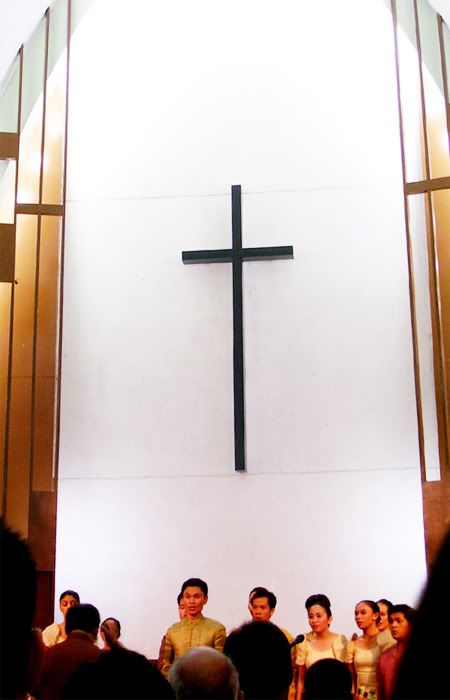 The air was biting cold as I walked my way to the Church of the Risen Lord to watch the concert of the UP Singing Ambassadors (UPSA). Aside from the carols I hear in malls, it's the chills that remind me that Christmas is near.
UPSA's Christmas offering,
Tulad ng Dati
, features songs from a wide repertoire—world song classics, Christmas songs in English and Filipino, as well as popular songs of the present.
Conducted by Ed Manguiat, himself an international prize winner, the choir gave masterful renditions of songs like
Poor Wayfarin' Stranger
(an American folksong),
I Thank You God For This Most Amazing Day
(Eric Whitacre, written by E.E. Cummings), and
Diwa ng Pasko
(Ramon Tapales, arranged by L. San Pedro).
In one of my favorites,
Creation
, the choir cleared off age-old notions about choral singing by performing a word-less piece composed by B. Cmenypko. The song narrated—literally without saying a word—the story of how this world came to be. I was amazed when some singers shrieked like monkeys or hissed like snakes and did so gracefully, as if it were the most natural thing to do.
UPSA also showcased the Filipino celebration of Christmas through a song and dance rendition of
Simbang Gabi
(Lucio San Pedro).
My favorites include
Someone Like You
(L. Bricusse and F. Wildhorn) from the play Jekyll and Hyde,
Sometimes You Just Know
(Danny Tan),
Birdland
(Josef Zawinul, Jan Hendricks, arranged by J. Nowak),
Dragon Dance
(Leong Yoon Pin), and of course, the
walang-kamatayang
Joyful! Joyful!
(L. van Beethoven, arranged by M. Warren) from the movie,
Sister Act 2
.
The entire performance left us all breathless. After UPSA's final song, we all stood up in applause, affirming once again, that this choral group truly never disappoints.