23 things you don't really need to know but would like to know about my dear brother Manong Ralph
1. He's extremely careful about his books. The sight of one crumpled page is, to him, as horrible as a 7.8 magnitude earthquake.
2. He writes like an old man. And he writes painfully slow. But if you're his friend, you'll probably dismiss him as a laureate of sorts.
3. Sometimes, it
seems
that, to him, a grammatical error is worse than adultery.
4. He thinks that anything mainstream is replusive. But he still went into blogging.
5. Among us in the family, his nose has the greatest surface area, second only to my father's. Go, look at our family albums, and you'll know what I mean.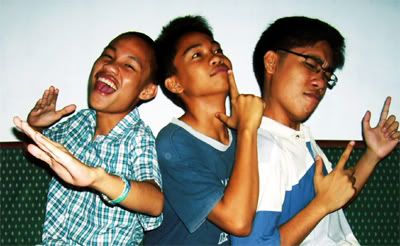 6. When he was in high school, his face was a rich mine of pimples and blackheads.
7. Nobody can stop him from singing anywhere. He often mistakes the library (or the grocery store) for the bathroom. It gets awful sometimes I just have to cover my head in shame, as if to say, "I don't know him."
8. Except for Tatay, he's the only one in the family who has the patience to accompany Nanay on her sandals/shoes shopping spree where my mother doesn't purchase a single pair until she's been to all the stalls.
9. When we had quarrels during our childhood years, he'd punch me really hard.
10. He'd eat some of the chocolate bars I stored in the fridge without me knowing it. "I've been saving them!" I'd cry.
11. He'd often beat me in table tennis, chess, and scrabble. And patintero, taguan, and tin-tin-bika (I don't know what it's called Manila). Now you know I'm a loser.
12. He'd vote for David Archuleta in American Idol.
13. When watching tv, he can't stay too long on one channel.
14. He likes loafers, suede shoes, and anything that looks lawyer-ish.
15. He listens to music when studying.
16. He's more reserved than me. Which is a fancy way of saying I tend to talk more.
17. His room is squeaky clean, and it's not because my parents told him to clean it.
18. Tell him to do anything--scrub the floor, clean the sink, cut the grass--but don't ever require him to wash the dishes, especially at night.
19. Like me, he's not into the habit of celebrating his birthday. He'd rather spend time with the Lord in his room.
20. He has always wanted to be a lawyer, and now, he's wondering if he'll graduate from law school with his brains intact.
21. In the family, he'd always be the serious type, I the blacksheep, and Sean the sweetheart.
22. He goes to Lamentations 3:23 when he feels downcast.
23. His example led me to knowing Christ personally, and for that I'm eternally grateful.