Philippine games
My Philippine Games class ended today. When I had gotten hold of my classcard (I got a 1.25) and said goodbyes to friends and/or classmates, I wondered when I'd find myself playing like a real kid again.
I spent quite a lot of time for my PE class, and found out that my time wasn't wasted, after all. I took the course because I was told that it was supposed to be fun, it was supposed to be relaxing, and only UP offers it in the rest of the world.
But let me digress.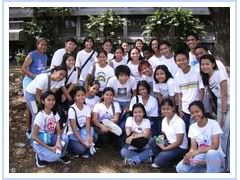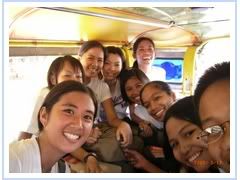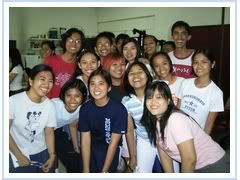 My classmates have been, like me, exposed to the typical Filipino childhood: afternoons (even evenings) spent playing patintero, luksong tinik, tumbang preso, and many more games that would create a physiological phenomenon called excessive sweating. The games would generally commence with bato-bato-pik, or ang maalis taya. There are no defined rules (though there are popular pre-defined ones)--the players have the discretion to modify, change or remove a rule. Perhaps that's why Filipinos, in general, find it difficult to obey rules: they feel like these rules may or may not be obeyed.
Our exposure has led us into believing that we could outwit our two Japanese classmates, Yuka and Mune. But we were wrong: they played like pros (that is, if we'd consider ourselves pros); they ran, they laughed with us (Ithough they didn't really quite understand the jokes), and they did silly things that we did ourselves.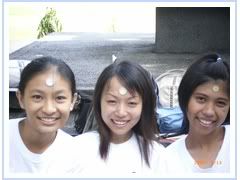 That PE class reminded me of my childhood. I was once a short, little brat who would always be the taya (or the it) because I was lame, small, and incapable of quick movements. But I was a child. Rather, I looked more child-like during those times, and no one really cared because we were all children.